We're Getting Mutants in the MCU - The Loop
Play Sound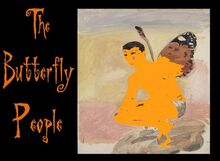 Have you heard of the butterfly people of Joplin? People say they saw them May 22, 2011, when a deadly tornado devastated the town. From that day, pictures of the destruction surfaced. Stories of the missing and the survivors dominated the news. The world got a glimpse of the tragedy that occurred in Southwest Missouri. But one strange story remains almost three years later: the story of the butterfly people. In the wake of the destruction, after the wind had settled, children who endured the storm began telling those family, friends, and relatives the stories of what they saw. Some said that the butterfly people protected them during the storm.
Although there are many versions of the story, the St. Louis Post Dispatch reports that there were two common descriptions of the sightings. Both of those accounts share the same foundation: the tornado barreled toward a child and a parent, but the child saw a "butterfly person" hovering above, protecting them. In both stories, the parent and child emerged unharmed. As the accounts circulated, more and more children came forward, saying that they too saw the butterfly people. Some say they believe that the butterfly people were angels; others called them an indescribable presence. The December prior to the storm, mural artist Dave Loewenstein visited Joplin to scout a site for his next project. After the tornado, Loewenstein didn't know what would become of the idea. He returned to Joplin that June to visit with the Cultural Affairs Committee and see what the future held for his latest location on his Community Mural Project. It was in a town meeting held to generate ideas for the mural that the artist first heard of the butterfly people. More than two hundred volunteers worked with Loewenstein and the mural designers to create the scene painted on the side of Dixie Printing, which sits halfway between downtown and the center of destruction from the tornado. Two hundred of those volunteers were local children from the community. Loewenstein had them draw pictures, which would serve as inspiration for the project. With no original intent of including the tales of the butterfly people, the artist soon discovered that many children drew them.
Loewenstein was skeptical of including the butterfly people but says that they represent a "metamorphosis," the rebirth of the city. The mural was titled "The Butterfly Effect," and Loewenstein told the Post-Dispatch that he hopes it inspires people to "do good work." Fifteen local artists and community members also took part in designing the mural. Assistant muralist, Amber Hansen said that this project serves as an outlet for those affected to share their emotions and experiences. The mural is the first of what the Joplin Area Chamber of Commerce Cultural Affair's committee hopes to be many more community-based murals.