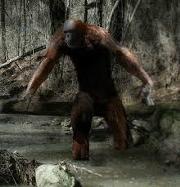 The Quickfoot, Ghost Ape of Marwood or Martyn's ape is a fast ape-like or bear-like entity, reported from Great Britain (Devon and Dorset, England; West Lothian, Scotland.). Covered with hair.
Sightings
Edit
In 1978, three boys exploring the woods near Kings Nympton, Devon, saw an apelike or bear-like creature with green eyes and a large muzzle.
In 1995, David Colman was driving down a country lane in the Bathgate Hills, West Lothian, Scotland, when he saw a humanoid running down a path at great speed. It was 6 feet tall, with a humanlike face. Dubbed "Quickfoot" by the press.
Possible explanations
Edit
Paranormal entity similar to the Hairy Biped of North America.
Exaggerated tales of feral people.
Ghostly apparations, possibly of bears.